This page contains details of published works I have written or contributed significantly to over the years. I've also contributed numerous articles to other publications and programmes, details of which can be found on the
Articles
page.

My most notable work is
Unseen Ayckbourn
, which has gone through several editions over the years including a new edition and a 'sold-out' limited edition 2019 run.

I've also been responsible for two major celebration publications:
A Round 50
published by the Stephen Joseph Theatre to celebrate its 50th anniversary and
Ayckbourn At 70
published by the Royal & Derngate Theatre, Northampton, to celebrate the 70th birthday of Alan Ayckbourn.

I have worked closely with the German Ayckbourn expert Albert-Reiner Glaap and contributed to three of his five published works about the playwright.
Publications by Simon Murgatroyd
Unseen Ayckbourn

Unseen Ayckbourn
is the latest edition of
Unseen Ayckbourn and
explores Alan Ayckbourn's unpublished, withdrawn and unwritten plays and will be published during summer 2023.

Named as one of The Stage newspaper's 'best theatre books',
Unseen Ayckbourn
examines Alan Ayckbourn's phenomenal career in theatre by exploring the plays which have rarely been seen, withdrawn, lost or - occasionally - altered. It draws from unused or abandoned concepts and ideas as well as looking at variations of existing plays, alternative titles as well as other ephemera from the playwright's six decades of writing.

Extensively revised and substantially updated for 2023, it includes extracts from many of the works as well as extensive quotes by the playwright himself. The edition is notable for including details of several previously unpublicised plays written during the lockdowns of 2020 / 2021 as well as newly discovered material relating to the creation of
Absurd Person Singular
.


Unseen Ayckbourn
is published by Lulu in paperback at 224 pages and is available from most major online booksellers, priced at £15. Click
here
to find out more.
A Round 50

A Round 50
was published to coincide with the 50th anniversary celebrations of Alan Ayckbourn's home theatre, the Stephen Joseph Theatre in Scarborough.


It is an A4, full-colour, glossy 64 page publication which includes a year-by-year guide to highlights from the theatre's history, an article exploring the history of venues (and proposed venues) for the SJT as well as a listing for every production between 1955 and 2005. Fully illustrated, it is a comprehensive guide to the first five decades of the SJT.

Signed copies of
A Round 50
are available from this website priced at £5 including postage and packing. Payment can only be accepted by PayPal and please
contact me
with any enquiries.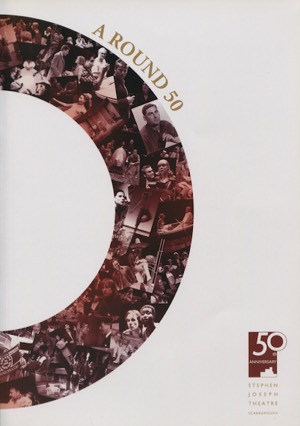 Ayckbourn At 70 (Sold Out)

The Royal & Derngate Theatre, Northampton, celebrated Alan Ayckbourn's 70th birthday in 2009 with a season of productions and a fully-illustrated celebration publication, which I wrote and compiled with various articles covering Alan Ayckbourn's entire playwriting career and quotes for every play and was fully illustrated.
Other Contributions
I have contributed to several other significant publications regarding Alan Ayckbourn, most notably with the noted German Ayckbourn expert Albert-Reiner Glaap.


○
Towards Ayckbournia in Germany
(2019) This 'festschrift' celebrating the 80th birthday of Alan Ayckbourn includes my article A Brief History of Alan.


○
Confusions To Roundelay: Stages In Ayckbourn's Creative Work
(2015) This book includes my article
Probable Fiction
.


○
New Landmarks In Ayckbourn Country
(2014) This publication which explores Alan Ayckbourn's plays between 2004 and 2012 includes brief guides to the plays written by myself.


All these books are published by Wissenschaftlicher Verlag Trier.